Before being given the Arts Foundation Award, I was struggling practically and financially due to time, money and spatial constraints which had led to exhaustion from working a variety of jobs to ensure I could afford the materials and space to continue making and showing my work. This had meant that my time was stretched, which was putting pressure on the way I make (and think), which is usually material led, and depends on experimentation, spatial investigation and time to develop these ideas.
The Arts Foundation Award for Experimental Architecture, and subsequent twelve-month fellowship, has allowed me to take a step back and consider my priorities and requirements as an artist working specifically in an architecturally-engaged sculptural medium. My first step was to use the fellowship to assist in how I work practically, therefore I moved to a larger studio space within the same studio building. This new space offered extra room to spread out which came at a perfect time, as I had begun working towards my exhibition at Yorkshire Sculpture Park (which opened in September 2019). The larger studio space enabled me to make most of the work for this show in the studio space. This meant that I could keep within the specific show budget whilst also having the ability to take time to change aspects of the work at my own pace, without the pressure of working with fabricators at this stage.  At this point in the year, I used the Arts Foundation award to buy a MIG welder, which has been key to trying things out quickly without relying on other workshops and facilities, and it remains as a tool that is very important in the making all my works.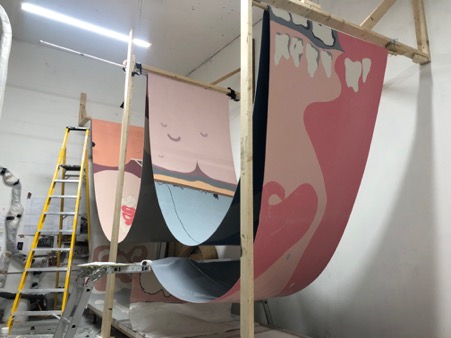 While developing the work, I was keen to develop my material research around the re-use and re-cycling of materials, therefore I used the fellowship funding to travel up North to meet with Professor Parik at the University of Huddersfield who I was put in contact with through YSP. His research in bioplastics and technical textiles was fascinating and we had important and inspiring conversations around touch, sustainability and material manipulation amongst other things. These ideas and discussions fed back into the thinking behind the work for Yorkshire Sculpture Park, and has helped me to think about how I develop ideas through research too.
This way of working (focused research coupled with dedicated time to making something entirely experimental) meant that I could make the work to the best of my abilities, and resulted in an exhibition that feels significant to me. At the same time, I had also produced a new work for the Lyon Biennale (that also opened in September 2019) and working on these two exhibitions at once would have been impossible in my previous studio space, while working other jobs.
The exhibition at Yorkshire Sculpture Park specifically has enabled a more diverse opportunity for conversation around my work, and has also helped to offer further opportunities in ways I did not expect. From these shows, and winning the Arts Foundation Award which also highlighted my work to others, I have sold two sculptures to collections for the first time; one to the British Council and one more recently to the Government Art Collection. I have also recently been asked to be represented by Stephen Friedman Gallery which feels significant in terms of support I can receive, as well as the opportunity for my art practice to be potentially sustainable as a career in the long term.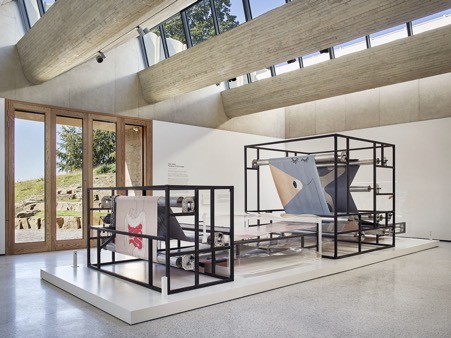 These more recent events, alongside my teaching role at the Slade, will hopefully mean that I can now continue working at the pace and standard that the Arts Foundation Award has enabled me work to this past year. Recently (in November 2019) I moved studio again, to a studio in Maze Hill, which is slightly larger than the previous and means that I can set half of it up as a workshop. The studio feels like a making space for the first time, and I am so excited by the potential of this. I have occasionally used the award to pay for assistance in the studio when extra hands are needed and I make sure that this goes towards paying younger artists well and fairly, where they can also gain a experience and use the workshop facilities.
I have also begun to create work for a show at the De La Warr Pavilion, opening in 2020, which also involves a new site specific outdoor work that deals with borders, edges, ruptures, wholes and holes where the work visualises the building as a body being eaten, becoming porous and holey before eventually dissolving into its surroundings. In December 2019, I used the last of the Arts Foundation funds to work with a lamp glass blowing factory, making some hourglasses that will be part of this show.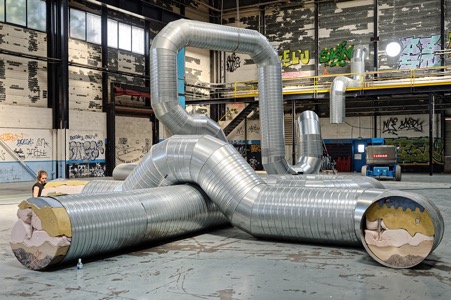 Overall, the fellowship has helped me gain time, momentum, tools, physical space, exposure, conversations and confidence during this past year, which has been overwhelmingly valuable and exciting, and I feel extremely privileged to have had this support at what has felt like an important year for me.