Acclaimed photographer Edward Burtynsky provided the 2021 Arts Foundation Future's Awards Ceremony  with imagery from his extraordinary work focused on the Anthropocene! Inspired by our award in Environmental Writing and our sustainably minded Finalists for our Materials Innovation Award, this year's Awards explored how creativity can also address issues around the climate crisis, with Special Guest and Environmentalist Lily Cole.
Photographs by Edward Burtynsky, courtesy Flowers Gallery, London / Nicholas Metivier Gallery, Toronto.
Read the story behind each of his works: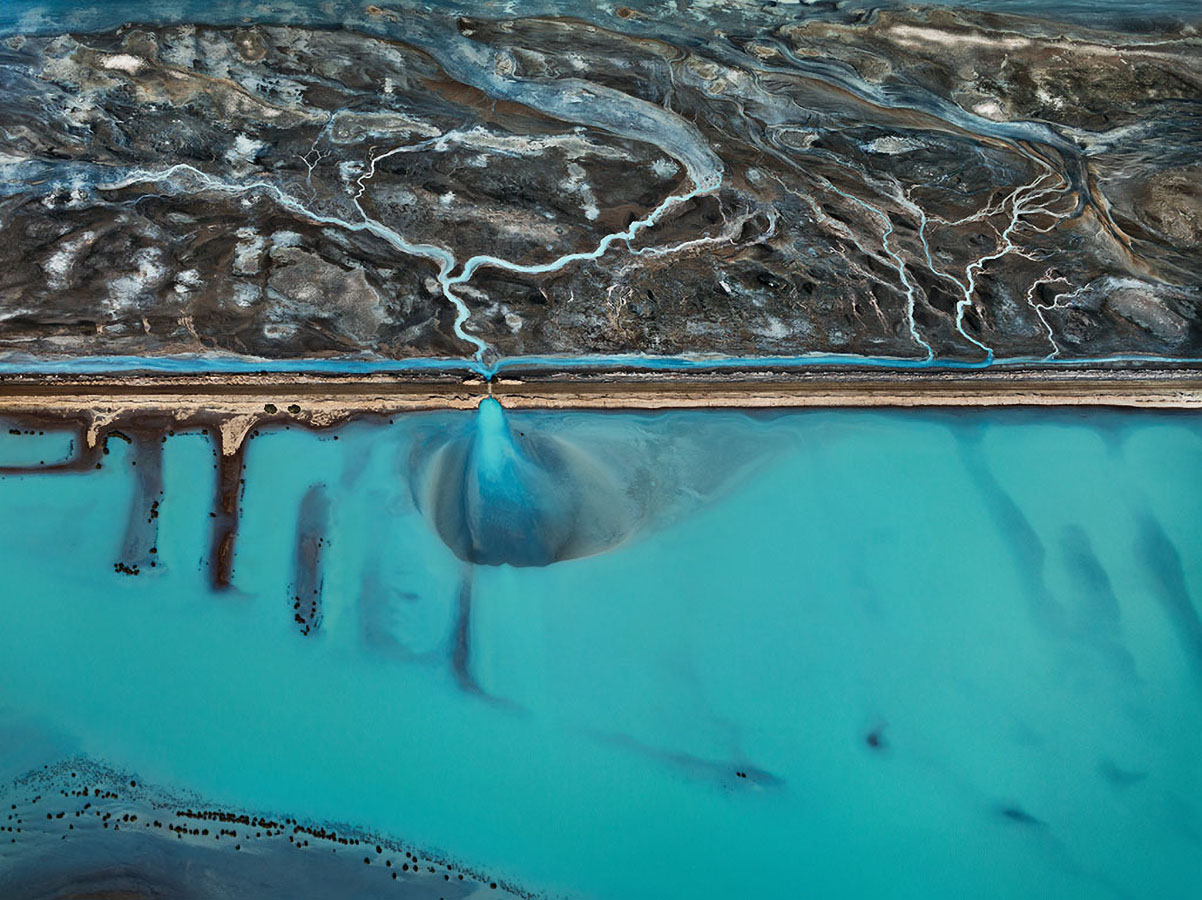 Cerro Prieto Geothermal Power Station in Baja California, Mexico (2012). 
Cerro Prieto is the world's largest complex of geothermal power stations in terms of overall size and the second-largest in terms of energy output. Geothermal power is considered to be a sustainable, renewable source of energy because the heat extraction is small compared with the Earth's heat content. The greenhouse gas emissions of geothermal electric stations are on average 45 grams of carbon dioxide per kilowatt-hour of electricity, or less than 5 percent of that of conventional coal-fired plants.⁠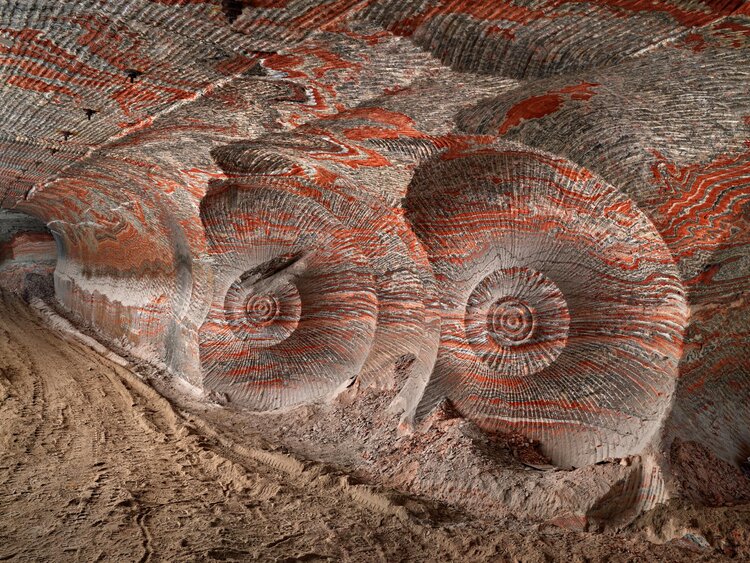 Uralkali Potash Mine #4, Berezniki, Russia (2017)
Potash is a potassium-based salt which is used mostly to make fertilizer. Ten percent of the world's supply comes from the Uralkali mines in Russia. This mine tunnel and its drill patterns are all man made. The city of Berexniki, formerly a Soviet era labor camp, sits above the mine, and several sinkholes, some huge, have opened within the city. The mines supply products to over 60 countries including Brazil, India, China, Southeast Asia, Russia, USA, and Europe. In 2018 Uralkali dug out 11.5 million tonnes of potash.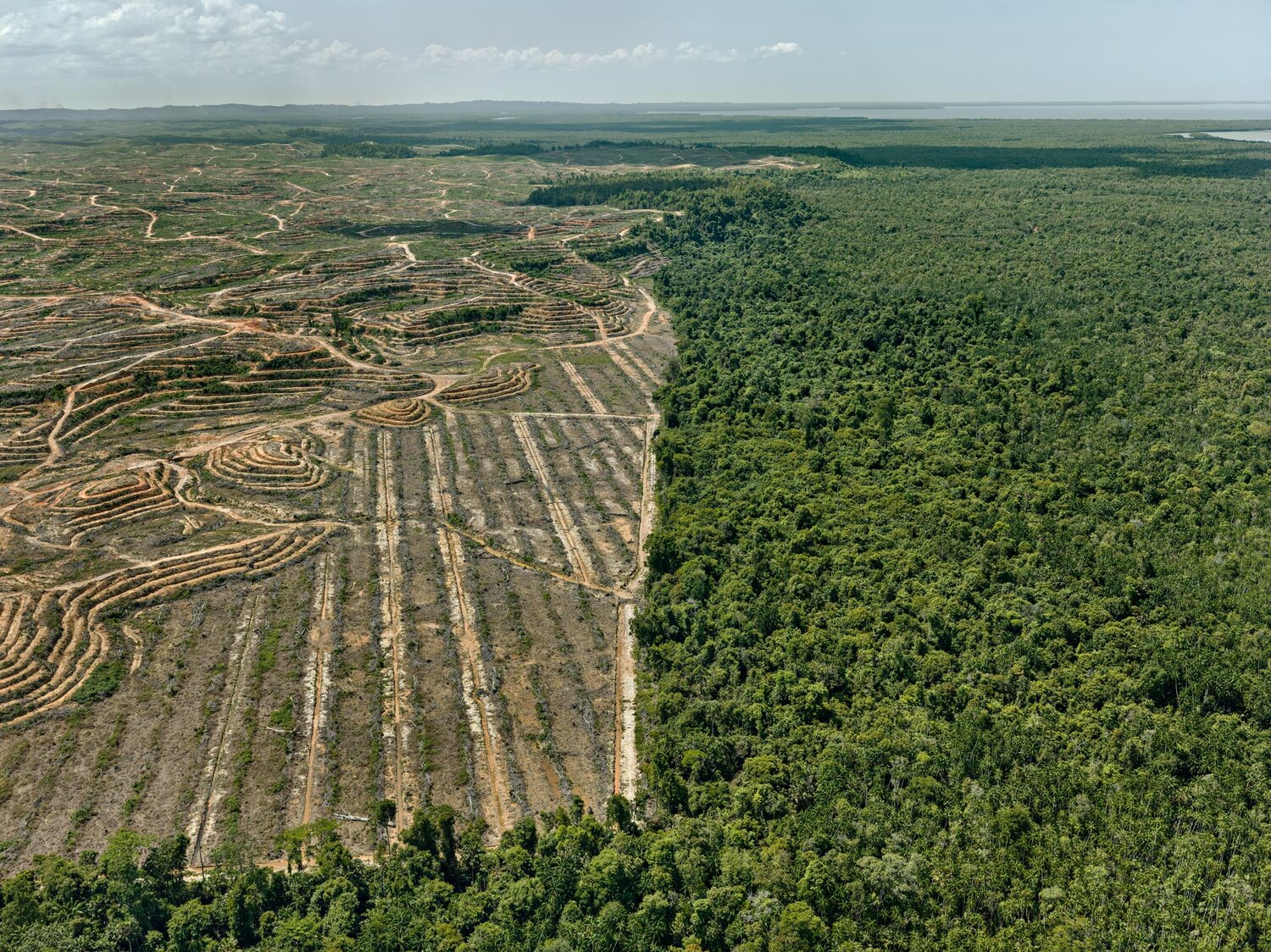 Clearcut #1, Palm Oil Plantation, Borneo, Malaysia (2016)
Oil palms yield more oil per acre than other crops, however soaring demand for the world's most popular vegetable oil has led to extensive deforestation and loss of wildlife in Indonesia and Malaysia, the biggest producers. 86 percent of deforestation in Malaysia from 1995-2000 was for oil palm plantations. Several studies have found an 80-90% reduction in biological diversity following forest conversion to oil palm plantation.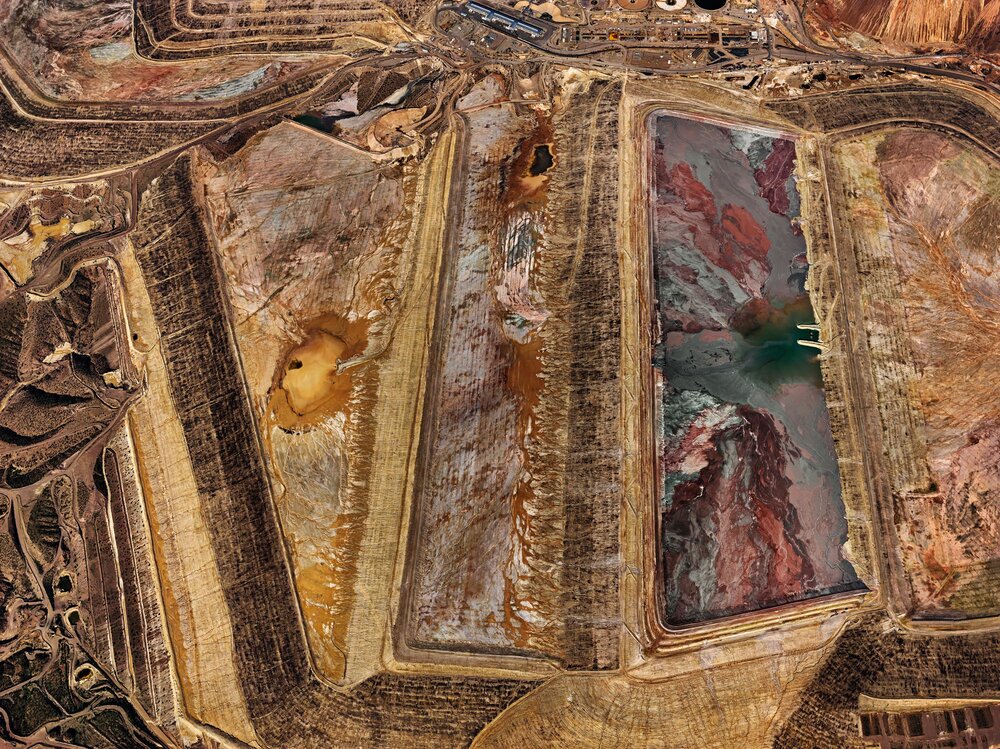 Morenci Mine #2, Clifton, Arizona, USA (2012)
This open pit mine in southeast Arizona is so large that it swallows up U.S. Route 191. Travelers driving south along the highway will be surprised to emerge from upland pine forests into a desolate, Martian-like landscape. This is the Morenci Mine, one of the largest copper mines in the world.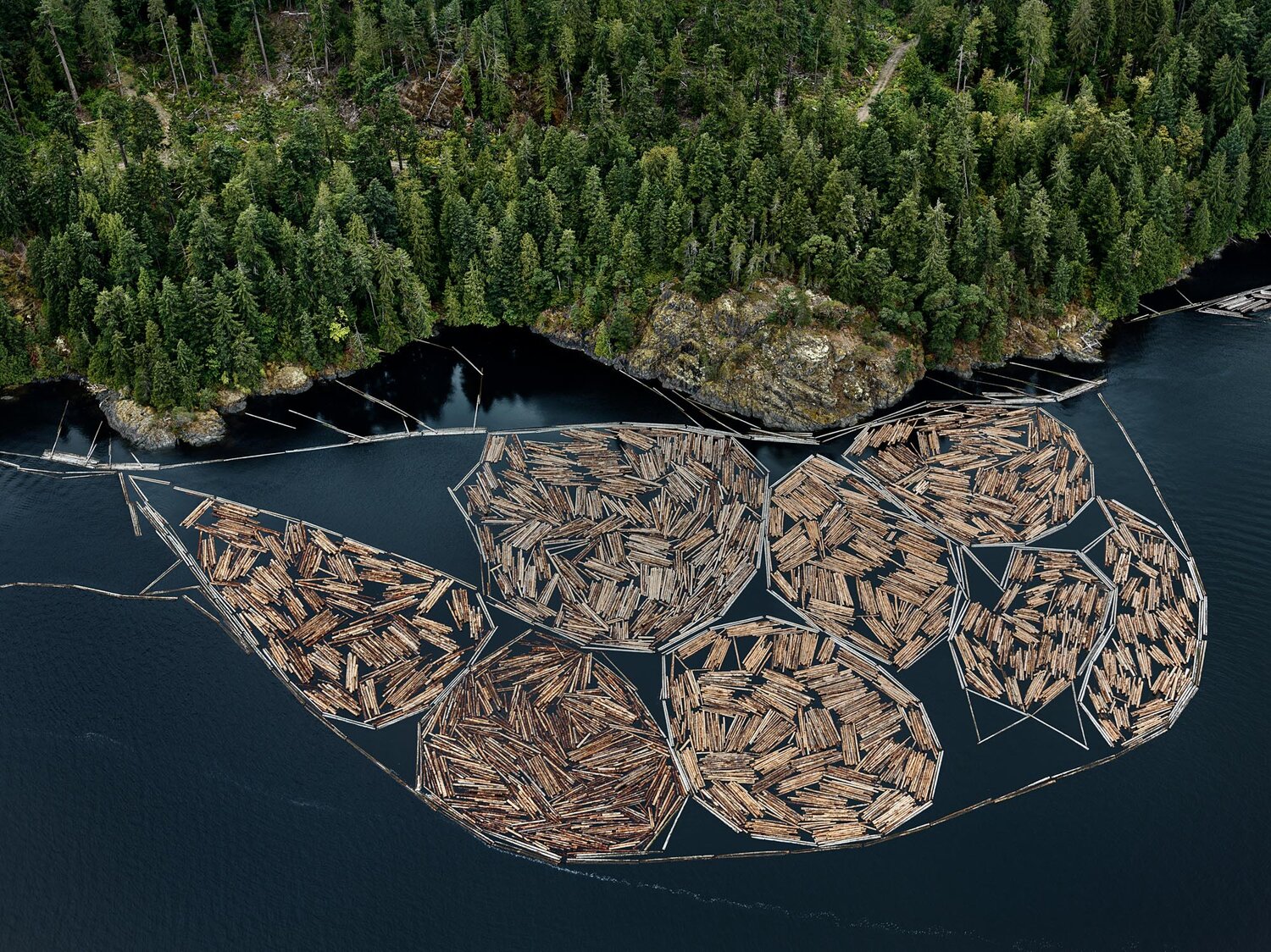 Log Booms #1, Vancouver Island, British Columbia, Canada (2016)
For the past hundred years, British Columbia has built its economic wealth on the extraction of resources. With the advent of industrial-scale logging in the 1950s, a staggering amount of wood began to be cut. Less than 10% of Vancouver Island's original old growth forests are protected by law, and today the number of trees cut in B.C. each year would fill enough logging trucks to circle the globe one and a quarter times.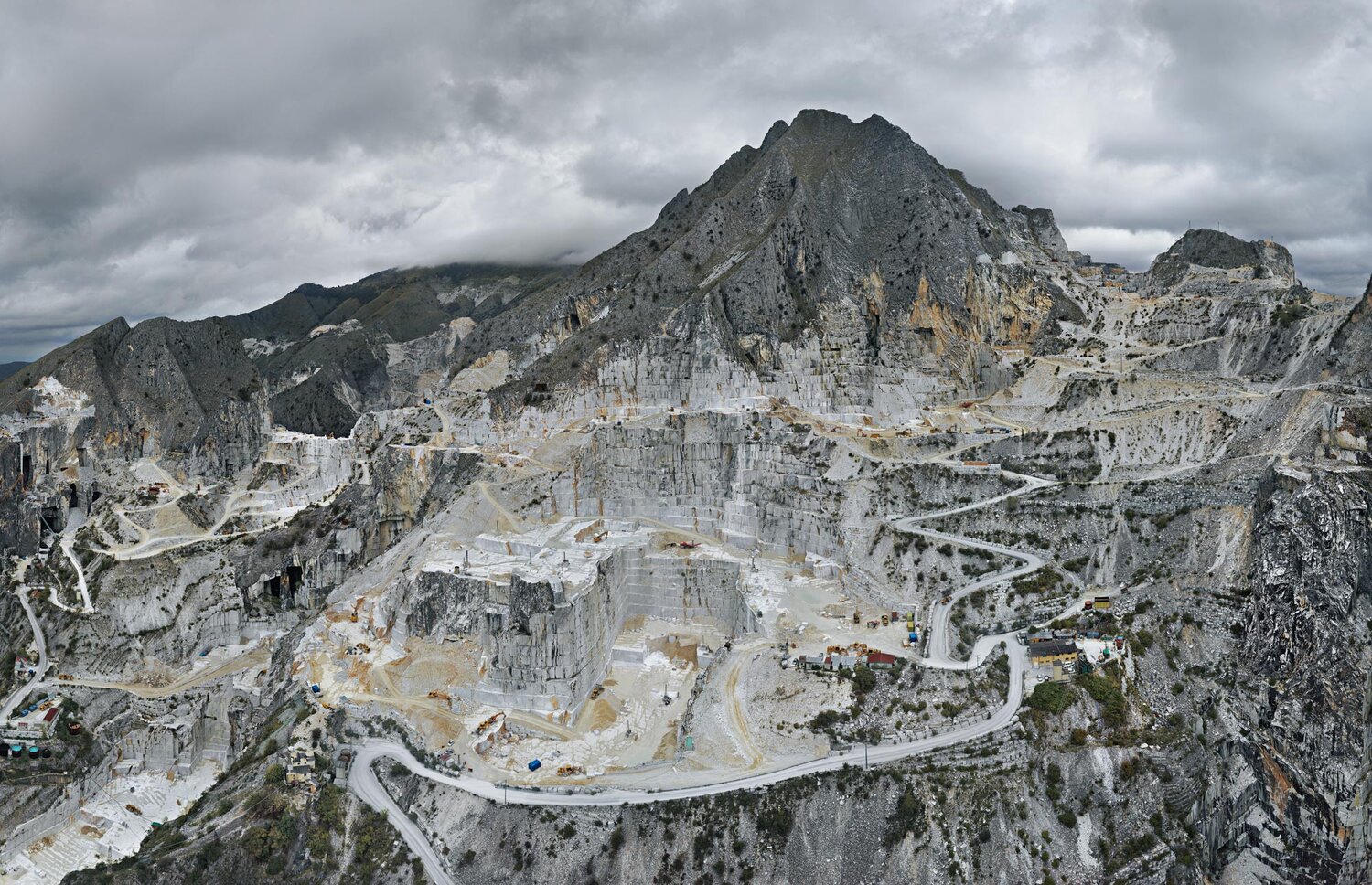 Carrara Marble Quarries, Carbonera Quarry #1, Carrara, Italy (2016)
Carrara marble is a type of white or blue-grey marble, favoured by Michaelangelo used since the time of Ancient Rome when it was called the "Luni marble". It is quarried in the city of Carrara in the province of Massa and Carrara in the Lunigiana, the northernmost tip of modern-day Tuscany, Italy. But much more has been extracted in the past 30-40 years compared to 2,000 years ago. Around 75% of marble extraction are not blocks but small stones and powder used to produce calcium carbonate. Calcium carbonate is everywhere, used as a base for toothpaste, cosmetics, glues, detergents and ceramics. The popularity of this material results in the over-exploitation of the quarry, turning the mountains white at a concerning pace.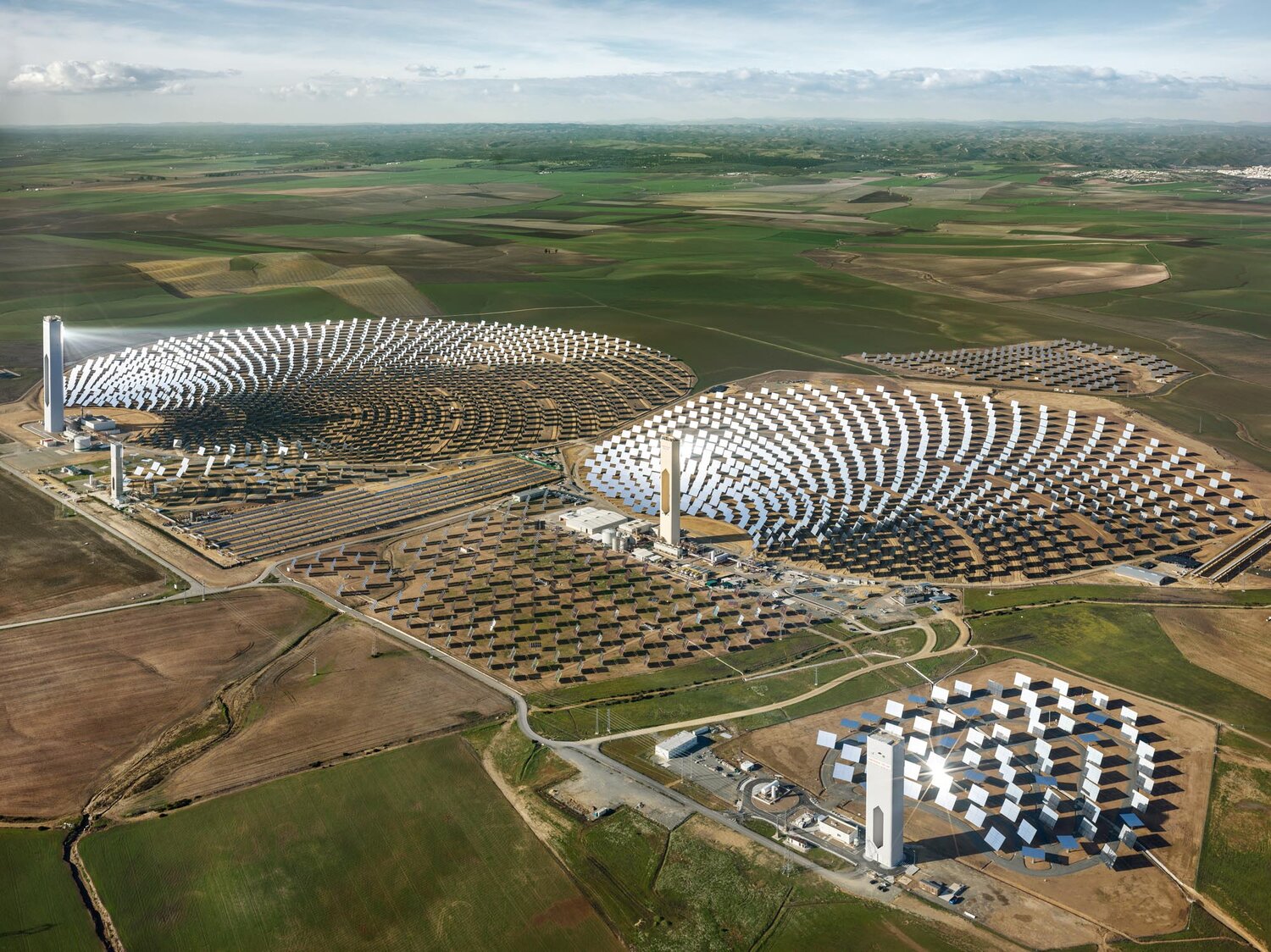 PS10 Solar Power Plant, Seville, Spain (2013)
Located in the Andalusian countryside in the municipality of Sanlucar la Mayor, the 40-storey concrete tower collects sunlight reflected by a field of 624 huge mirrors. The light is so intense that it lights up dust and water vapour in the air. The plant was completed in 2013 and produces approximately 300MW of energy for approximately 180,000 homes – equivalent to the needs of the city of Seville. It will offset emissions of over 600,000t of CO₂ into the atmosphere a year over its 25-year life.